Commercial Refrigeration Repair Livermore
Proudly Serving The Bay Area For Over 30 Years
857 Hazle St. Livermore, CA

Commercial Refrigeration Livermore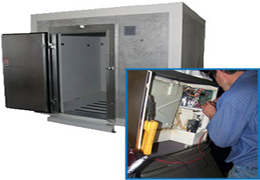 We offer affordable rates for high-quality workmanship. We understand that repairing cooling units – particularly restaurant equipment or a walk-in cooler – can be pricey, and ordering appliance parts can be time-consuming. Our repair services will take care of all of that for you – and we can service all makes and models. We here at Livermore Mechanical, Inc. know it's important to keep your walk-in freezers running, that's why we offer fast and walk-in freezer repair where you need it when you need it. We have a loyal and friendly team with plenty of training and experience. We are certified and insured in refrigeration and cooling repairs. We are available 24 hours a day seven days a week in Livermore and surrounding communities so call us now with your emergency or your project and we'll do what we can as quickly as we can.
Why Choose Our Commercial Refrigeration Services?
Livermore Mechanical, Inc. has been in business for more than 15 years for one simple reason. Our team values customer satisfaction above all else. In every project we undertake, our objective is to provide the highest quality refrigeration repair services possible. We understand that Livermore area business owners are looking for highly reliable, extremely functional, and energy-efficient refrigeration systems. By focusing on these three aspects, we guarantee that you and your customers will be completely satisfied with all of our services.
For years, our Livermore service technicians have been honored by the fact that local businesses have trusted us with their most important refrigeration services. We know that these systems are instrumental to the life and revenue of your business. As such, we honor that trust by treating every service as if we are conducting it on our own business. In this way, we can guarantee that you are receiving the highest quality walk-in freezer repair and refrigeration services possible.
If you need to hire a professional refrigeration repair technician in or around Livermore,
Questions?
Need a project quote?
"One of the Best Refrigeration Repair Companies I have ever worked with"
~ Bo Bryan
Business Hours: Monday - Friday 8 AM - 5 PM *24 Hour Emergency Service*
COPYRIGHT© 2016. ALL RIGHTS RESERVED.  - Livermore Mechanical, Inc. - Commercial Refrigeration Repair Livermore, CA