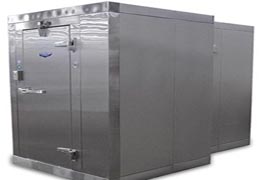 Walk in Cooler Repair in Dayton, OH
walk in cooler repair Dayton The Furnace Man has been providing reliable walk in cooler repair services to Dayton businesses for many years. Your walk in cooler or freezer holds thousands of dollars in inventory and ensures the safe use of your product by your customers. When your cooler goes down or is operating below optimum efficiency, your business and your customers are at risk.
For those in the food industry, timely repairs are a necessity to get your restaurant or business back up and running.
Our expert technicians are trained to work on a variety of walk in coolers & freezers across all makes and models.
Common Walk In Cooler Repairs
Our technicians are trained to handle any emergency. Below is a small list of the many problems we solve every day:
Walk In Cooler / Freezer Not Getting Cold
Your walk in cooler or freezer may not be holding its temperature for a variety of reasons from a worn door deal to malfunctioning equipment. Our technicians will diagnose the problem and provide you with a few affordable solutions.
Walk In Cooler / Freezer Suddenly Turned Off
The last thing you want is to lose power to your walk in cooler. Even if it might be something as simple as a tripped breaker or blown fuse, our technicians will run a full diagnostic. We'll not only get your walk in cooler or freezer up and running, but we'll find out why it went out in the first place and prevent it from happening again.
Walk In Cooler / Freezer Repair Dayton Too Much Ice Buildup
Ice on the evaporator coil, air vent, or drain pan is never a good sign. Luckily, ice begins to present itself before it becomes too much of a problem. Gives us a call at the earliest signs and we can help prevent loss of inventory with regular system maintenance.
Walk In Cooler / Freezer Is Too Noisy Or Is Constantly Running
If the motor on your walk in is running all the time, this means that you might have a refrigerant leak in your system. This problem likely presents itself with one of the other items above. It's not only bad for the walk in, but for your electric bill as well.
What Brands Can We Repair?​
The Furnace Man Pros most commonly work on Tecumseh, Heatcraft, and Trenton refrigeration products, but are trained to service all makes and models of walk in coolers and freezers. Regardless of the brand (or the problem), we promise to get you and your unit back in business as quickly as possible.
Commercial Refrigeration Services
Walk in cooler repairs aren't all we do. We also service ice machines, chest freezers, food prep tables, display cases, reach in freezers, and more.
Whether you need a repair, a full system replacement, or regular preventative maintenance services, we're here for you.
Walk-in Cooler Repair Dayton
The Furnace Man provides you with the highest level of customer support for a complete level of satisfaction. Our walk-in cooler repair technical support team is available to serve our valued customers 24/7, 7 days a week! Anywhere in the greater Dayton area. We use manufacturer recommended parts and have worked with all different brands and models.
Walk-in Cooler & Freezer Repair Dayton, OH
Business Hours: Monday - Friday 8 AM - 5 PM *24 Hour Emergency Service*
2589 Midvale St. Dayton, OH 45420
COPYRIGHT© 2016. ALL RIGHTS RESERVED.  - Walk In Cooler Repair Dayton, OH - License: #46663