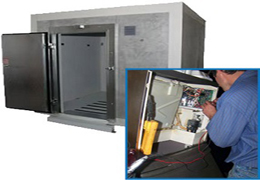 Commercial Freezer Repair in Austin, TX
TriPoint Refrigeration, Inc. is Texas' leading freezer repair & servicing specialist. We provide sales, design & installation, repairs & service. TriPoint Refrigeration, Inc. deals with a wide range of cooling and heating units from all manufacturers. We will perform your freezer repair quickly and efficiently. TriPoint Refrigeration, Inc. can also give you advice and specialist knowledge enabling you to be confident of any new freezer purchase you may be considering.
Austin Commercial Freezer Repair
TriPoint Refrigeration, Inc. serves commercial food stores throughout Texas. At TriPoint Refrigeration, Inc., we are dedicated to providing quality workmanship, professional service, and customer satisfaction every time.
Commercial Freezer Repair
Whether you're running a family-owned restaurant or a five-star hotel, no freezer repair, walk in cooler repair, or ice machine repair job is too small or too big for us. Our highly skilled commercial refrigeration technicians are available seven days a week, including holidays. TriPoint Refrigeration, Inc. specializes in commercial freezer repair so you can rest assured that your equipment will be in good hands. For speedy and efficient freezer repair service, call us at (512) 643-7770 24/7 7 days a week.
Commercial Freezer Repair Reviews From Our Customers On Google
[good-reviews review=5893]
[good-reviews review=5896]
Our Services:
Refrigeration Repair
Refrigeration Sales
Refrigeration Installation
Refrigeration Maintenance
Ice Machine Repair
Ice Machine Sales
Ice Machine Installation
Ice Machine Leasing
Ice Machine Maintenance
Walk in Freezer Repair
Walk in Freezer Sales
Walk in Freezer Design
Walk in Freezer Installation
Walk in Freezer Maintenance
Commercial HVAC Repair
Commercial HVAC Sales
Commercial HVAC Design
Commercial HVAC Maintenance
Commercial HVAC New Construction
Energy Management
TriPoint Refrigeration, Inc. is a Full Service Commercial Refrigeration Service Company Serving the Following Areas:
Austin, TX
Round Rock, TX
Georgetown, TX
Pflugerville, TX
Cedar Park, TX
And Most Other Surrounding Cities...