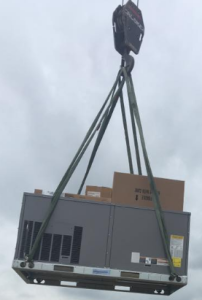 Commercial HVAC Contractor Phoenix, AZ
Terry's AC & Refrigeration Refrigeration offers the commercial customer a full turn key HVAC solution. Terry's AC & Refrigeration Refrigeration has been installing and servicing commercial refrigeration HVAC equipment in Phoenix, AZ for years. We are highly qualified and employ the most experienced technicians in the HVAC industry
With over 28 years of combined experience, our commercial HVAC team has completed hundreds of successful HVAC installation projects with clients all around Phoenix, AZ in a range of industries including retail stores, banks, animal hospitals, restaurants, and more. With our years of experience, we are well-versed in all stages of commercial HVAC new construction, refrigeration, and sheet metal projects. Our experience includes everything from estimating and design/build to sheet metal & system installation.
Our installation crew includes seasoned mechanics & foreman who are able to lead and delegate to maximize efficiency, as well as eager apprentices who are quick to learn and dedicated to honing their skills. Our dedicated team of service technicians also plays a large role in our success as a mechanical contractor since they allow us to facilitate every step in the installation project, including startups, warranties, control wiring, and more.
Working with Terry's AC & Refrigeration Refrigeration on a commercial construction project is different from working with other contractors because of the values our team is built on: teamwork, training, and pride. We take the time to ensure that each person brought onto our team fits in with the company culture that we have established. Our crew upholds the standard of work, level of communication, and sense of pride in their work that Terry's AC & Refrigeration Refrigeration, has become well known for over many years of completed commercial HVAC projects.
Additionally, we provide training for all apprentices that we hire and encourage continued training for our more experienced HVAC mechanics and foreman. A well-trained team that works together and takes pride in their work tends to provide some outstanding results! If you're interested in working with our team, please contact Terry's AC & Refrigeration today. Our team is ready to take on any HVAC projects small or large and has years of experience working on the following HVAC brands in the Phoenix, AZ Area:
Brands we work with:
American®, Standard®, Carrier®, Bryant®, Lennox®, Mitsubishi®, LG®, Liebert®, Honeywell®, Panasonic®, Amana®, Armstrong®, Coleman®, Goodman®, Rheem®, Trane®, York®, Tecumseh, Alco®, Sporlan®, Manitowoc®, Scotsman®, AprilAire®, Trion®, White Rodgers®
Troubleshoot Commercial HVAC
When troubleshooting commercial HVAC (Heating, Ventilation, and Air Conditioning) systems, it's important to prioritize safety and follow proper procedures. Here are some general steps to help you troubleshoot common issues with commercial HVAC systems:
Check Power Supply: Ensure that the HVAC system is receiving power. Verify that the circuit breaker or fuse box has not tripped or blown a fuse. Check that all switches and disconnects related to the HVAC system are in the correct position.
Thermostat: Verify that the thermostat is set to the desired temperature and mode of operation (cooling, heating, or fan only). Ensure that the thermostat is working properly and sending the correct signals to the HVAC system.
Air Filters: Check the air filters and clean or replace them if necessary. Clogged or dirty filters can restrict airflow and affect the system's performance.
Airflow Issues: Inspect the supply and return air vents to ensure they are not blocked or obstructed. Ensure that the dampers are in the correct position and not limiting airflow. Observe the airflow coming from the vents to see if it is weak or inconsistent.
Condensate Drain: Check the condensate drain line to ensure it is not clogged or blocked. A blocked drain can cause water leakage and affect the system's performance.
Refrigerant Levels: If the HVAC system uses refrigerant, check the refrigerant levels. Low refrigerant levels could indicate a leak in the system. Only licensed professionals should handle refrigerant-related tasks.
Temperature Discrepancy: If there is a significant difference between the set temperature and the actual temperature in the space, there may be an issue with the system's sensors, dampers, or control settings. Consult the system's manual or contact a professional technician for further assistance.
System Noises: Unusual noises such as grinding, rattling, or squealing may indicate a mechanical issue with the HVAC system. Listen for any unusual sounds and try to identify their source.
Professional Assistance: If the troubleshooting steps mentioned above do not resolve the issue, or if you are unsure about performing any further tasks, it is recommended to contact a professional HVAC technician. They have the expertise and tools to diagnose and repair complex issues with commercial HVAC systems.
If the troubleshooting steps above do not resolve the issue or if you are unsure about performing any of these tasks, call Terrys A/C & Refrigeration now and we will take care of any issues you may have.
At Terry's AC & Refrigeration Refrigeration, we are dedicated to providing quality workmanship, professional service, and customer satisfaction. Whether you're running a family-owned restaurant or a five-star hotel, no job is too small or too big for us. Our highly skilled HVAC technicians are available seven days a week, 24 hours a day, including holidays.
"One of the Best Refrigeration Repair Companies I have ever worked with"
~ Bo Bryan