COMMERCIAL HVAC
PROUDLY SERVING ALL OF DFW OVER 30 YEARS
 Call to Schedule a Service Call Now! - (972) 855-8002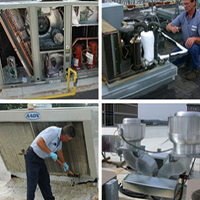 ARGEE Mechanical offers the commercial customer a full turn key HVAC solution. ARGEE Mechanical has been installing and servicing commercial refrigeration HVAC equipment in North Texas for years. We are highly qualified and employ the most experienced technicians in the HVAC industry.
ARGEE Mechanical repairs your HVAC refrigeration, heating, or cooling systems right the first time. We work on large commercial refrigerators, walk-in commercial freezers, walk-in coolers, ice machines, wine cooling units, laboratories, and custom refrigeration systems.
DALLAS: (817) 886-5914  •  FORT WORTH: (817) 886-5914  •  DENTON: (940) 294-6944
Same Day 24/7 Repair Service Available!
ARGEE Mechanical can also help you design and install systems for your specific applications. ARGEE Mechanical provides priority service for customers with emergency service as well. We service commercial food stores around North Texas including Dallas, Fort Worth, Arlington, Garland, Richardson, Plano, Frisco, Allen, Carrollton, Lewisville, Denton, and surrounding cities.
At ARGEE Mechanical, we are dedicated to providing quality workmanship, professional service, and customer satisfaction. Whether you're running a family-owned restaurant or a five-star hotel, no job is too small or too big for us. Our highly skilled HVAC technicians are available seven days a week, 24 hours a day, including holidays.
Business Hours: Monday - Friday 8AM - 5PM *24 Hour Emergency Service*
COPYRIGHT© 2016. ALL RIGHTS RESERVED. ARGEE Mechanical, LLC - Commercial Refrigeration Dallas, TX - LIC.# TACLA11676C